28 Jan

Local Tucson Fighters Need to be on UFC Fight Night Card-Glendale AZ

US Elite Combat
UFC Fight Night Glendale, AZ
April 14, 2018
Gila River Arena

With a great main event with The Most Violent Man in MMA Justin Gaethje who is Native Safford, AZ versus Dustin Poirier and the co-main event with Carlos Condit (Albuquerque) versus Matt Brown. These are bangers and ready to know some heads off. Which is a solid draw for UFC.
Would like to submit these fighters from Tucson, thank you for the considerations Sean Shelby & Mick Maynard and Dana White
The name of the game is putting asses seats. We have a handful of fighters that can put fans into seats.
Some of the great fighters that have been in Martial Arts from fighting, coaching and doing phenomenal work in the community are:
Joey "Boom Boom"Rivera former Ultimate Fighter Alumni. With notable wins over Smiling Sam Alvey and Saad Awad. With a Pro Record of 7-1, Black Belt in Judo and successful gym owner in Tucson. APEX Mix Martial Arts where he is the Head Coach/Owner and building Champions in Tucson. Doesn't just sit around, always in Judo , Jitz Competitions and training in Brazil with the Elite Brazilians.

Ed "Wild" West 23-10 who was a Bellator Tournament Finalist and is on a 5 fight win streak 4 of them by submission. He won two Championships belts in 2017 : Aggression Session with a Win over UFC Veteran Roman Salazar, and World Fighting Championship with a submission over Glen Baker in the 1st Round.
If your looking for a hugger, this isn't Ed's style, a Black Belt in Tae Kwon-do.

Joel Champion holds a 4-1 professional record with a World Fighting Federation Championship Belt at Welterweight.
As a Amateur he won in Strikeforce and Won Tuff-N-Uff Future Stars Amateur Title in Las Vegas.
He coaches and mentors young kids.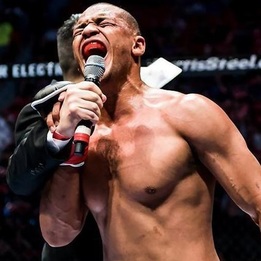 Let them into the BIG SHOW.
Thank you & Much Love