21 Sep

WSOF Undefeated Russian Fighter gets suspension for striking opponent

US Elite Combat Management  Sept 21, 2015

At "WSOF 23", Vagab Vagabov struck Brian Grinnell several times after the bell. Vagabov had Grinnell pushed up against the cage fence and was throwing some bombs which forced Al Guinee to step in and stop the bout.It was very obvious the referee was stopping the fight, but Vagabov decided to land a knee to the head and slapped him in the head. At one point Al Guinee raised his hand deducting a point. Rather confusing.  Brian Grinnell didn't find that professional or take kind to the late blows.
As you can see Brian and Vagoboz going over the fight.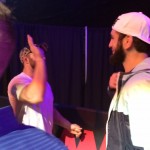 WSOF Executive Vice President and matchmaker Ali Abdelaziz informed Vagabov and his team the fighter would have to serve a five month suspension due to his actions. "I spoke with Vagab and his team, and they were very apologetic for his actions,"
Vagabov was also apologetic to Brian Grinnell after the fight and they took a after fight photo.
Photo Credits : US Elite Combat Management
Abdelaziz told US Elite Combat. "Vagab got caught up in the moment and expressed remorse for his mistake, but as a company, we simply cannot let moments like this go without addressing them directly."
Abdelaziz is hoping this immediate suspension is going to put out of control fighters on notice, and learn how to use some restraint. "We hope this penalty sends a strong message to everyone on our roster that such infractions simply will not be tolerated."
Is 5 months too long?